Experience the Best Shelling Tours on Kice Island
Best-Rated Kice Island
Shelling Tours
Our spectacular Kice Island guided boat and shelling tours will give you and your family amazing memories to look back on. Our shelling, dolphin, and fishing excursions in Southwest Florida take you to phenomenal, untouched beaches just a couple miles to the south of Naples, Fort Myers, and Sanibel Island. You'll visit the Ten Thousand Islands, home to some of the rarest and most beautiful seashells. Both locals and visitors from all over the world rave about the unparalleled service they receive and the thrilling adventures they share with their group on our Kice Island boat tours.
The Travel Channel plus the best resorts on Marco Island and Naples recommend our amazing shelling and dolphin tours with Captain Evan.
Our Shelling Tours Are On Secluded Islands
Kice Island is very close to Marco Island, just a bit south of Naples, Florida. Some of the world's most gorgeous beaches are on Marco Island and Naples. Our boat tours off the coast of Marco Island take you far into the Ten Thousand Islands off the beaten path where fascinating shells await you. Our tours bring back more valuable Junonia shells than any other tour group in Southwest Florida. The beaches on these islands take the cake for Best Shelling Beaches in Southwest Florida because they have layers upon layers of unique and rare shells.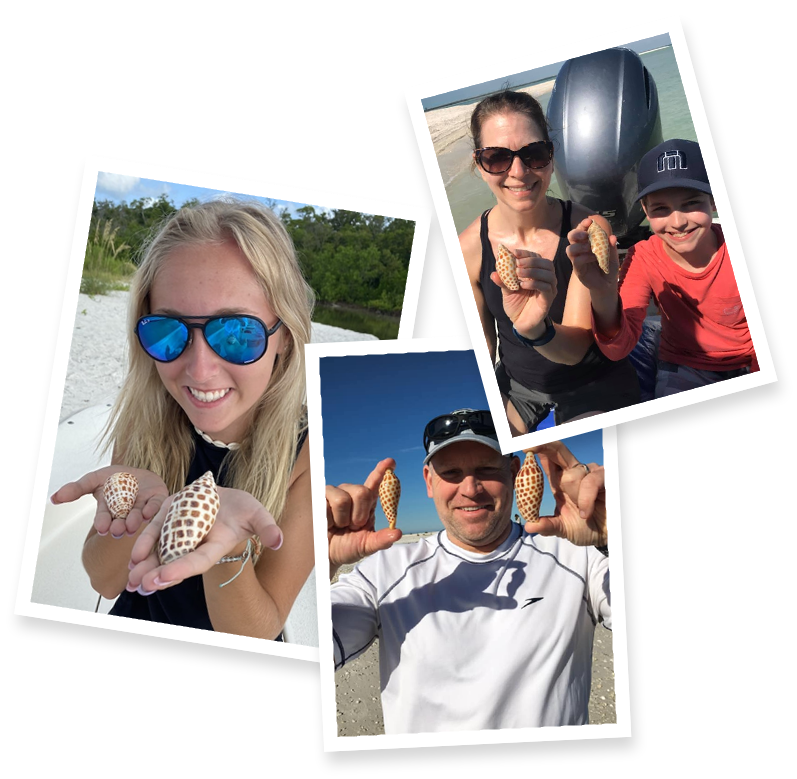 Our Tours Are Exciting, Interesting, and Educational
Led by the highly experienced Captain Evan, you'll find out about the islands, the animals, and even some of the interesting regional history. Both kids and adults will be engaged in our Kice Island boat tours because we keep everyone entertained with funny stories and have incredible family-friendly adventures!
Your Family Will Have Memories They Will Always Look Back On
Our Kice Island boat tours not only show you the gorgeous flora, pristine sandy beaches, and glistening oceans, but there are so many extras along the way! Dolphins play near the boat and Junonia shells are plentiful on the best shelling tour around.
You Can Experience The Best Fishing on Kice Island
If you prefer to spend your day fishing for the best fish in South Florida, we have you covered. You can cast lines while other people in your group are on the shelling excursion. We provide everything you need (rod, bait, etc.) to fish from shore. Plus, you'll even get tips from an expert angler to make sure you come away with some bragging rights!
Reviews of Our Professionally-Guided
Seashell Collecting Tours
If you want shells, I mean shells like nowhere else (including Sanibel, Lovers Key, and Captiva then you want to do this. Seriously. Capt. Evan is great and will take you to the shells. But that's just the start. He's a great guy ever and loves showing off Marco Island and it's famous homes. And then there are the dolphins. One of the most memorable events of your entire vacation will be watching the dolphins "surf" right up to touching distance of the boat. I HIGHLY recommend Sand Dollar Shelling. VERY Highly!.
- Kevin B.
Captain Evan was so awesome! I have a three year old and she completely loved it and so did my mom. Captain Evan completely made the trip, he was knowledgeable and so fun! He basically explained each shell on shell island to my three year old- the patience! He went above and beyond to make sure we had fun. We saw tons of dolphins and all three of our minds were blown. Highly recommend.
- Liz from a Shelling Tour
My husband and I spent a very educational morning with Captain Evan. So much much information, a great view as well as fantastic shells. We really enjoyed our time looking for shells. I recommend this trip for anyone. I defiantly will be back when visiting the area. Thanks from the Ohio pilot & wife.
- Terrie from a Shelling Tour
Amazing shelling trip, We had a superb captain willing to share his vast knowledge of the islands, local wildlife, and shells. The shelling was truly unbelievable with all of us finding a multitude of rare and hard to find shells on a beautiful island created with shells. We caught super videos of the dolphins within a few feet of the boat surfing on the wake, we'll be using this wonderful captain from now on when visiting Florida. Evan, thank you so much for a wonderful day, we cannot wait for our next adventure with you.
- John from a Shelling Tour
About Our Family-Friendly Kice Island Shelling Excursions
Join us on our Kice Island boat tours, where you can take in beautiful views and have unique and fun experiences. Captain Evan, the owner of Sand Dollar Shelling, leads all of our excursions. He is eager be your guide through the 10,000 Islands and show you the amazing wildlife. The area is famous for its amazing marine life including sharks, fish, and pink bottlenose dolphins. And it is especially well-known for its beautiful and rare shells.
We give all guests shell buckets to help with your shell collecting along the beautiful beaches. Take a tour with us and enjoy amazing sights that not many people will ever get to experience!
We have years of experience operating Kice Island shelling and dolphin boat tours for guests of all ages. We take great pride in introducing each guest to the spectacular locations, majestic animals, and rare shells!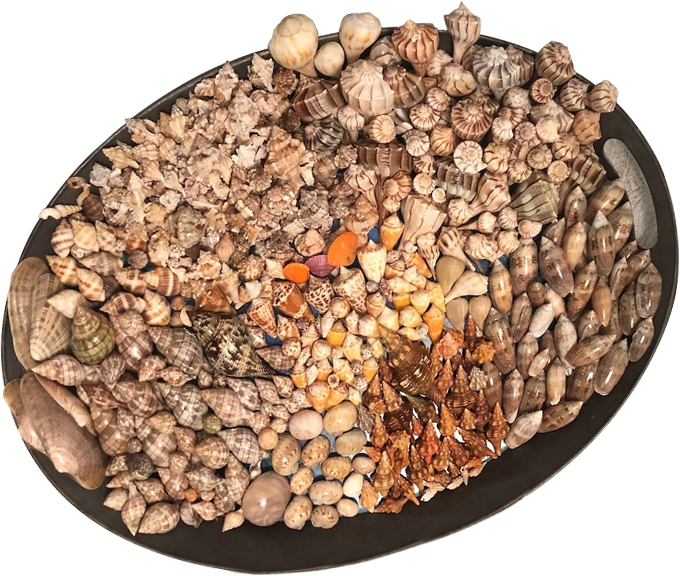 Recent Articles Related To Shelling On Kice Island, FL
Ahoy, families of adventure-seekers and nature enthusiasts! Have you ever dreamed of setting sail to a hidden paradise where the sands whisper stories of the
Learn More
It's time to book your shelling tour on Marco Island! We are USCG licensed and insured and approved for infant guests. We find more Junonia Shells, Alphabet Cones, and Sand Dollars than any other boat tour agency nearby. Dogs are welcome, too!
604 E Palm Ave, Goodland, FL 34140
8 AM – 11 AM
11:30 AM – 2:30 PM
3:00 PM – 6:00 PM